The Guardian reports:
"I call it the rolling deckchair," says Johan Erlandsson as his six-wheeled cargo bike, the Velove Armadillo, glides down the cobbled pedestrian streets of central Gothenburg. Stretching 14ft long but only 34 inches wide, the sleek machine is crafted from red-coated aluminium with a pedal-assisted electric drive and a trailer that is low enough for other cyclists to look over.
There is double wishbone suspension on the wheels – a technique similar to what you will find on a Formula 1 car – making it ideal for navigating tram tracks and cobblestones when Erlandsson and his delivery company ferry lunches, cakes and wine to local offices. It's the perfect distribution method in a city putting a brake on heavy traffic. "You are never stuck in a queue," says Erlandsson before doing a 360-degree turn in front of a group of amused shoppers. "It's quicker to get from A to B – and it's safer."
Walk through central Gothenburg's main shopping streets near the cathedral and you are as likely to see futuristic cargo bikes and electric cars dropping off deliveries as you will see trucks and white vans. Cargo distribution has been targeted as part of a long-running initiative to make the inner city area a more attractive environment for walking and cycling. Normal streets have been turned into pedestrian areas, parking has been prohibited and traffic restrictions mean that normal deliveries with vans and lorries are only allowed between 5am and 10am on the most crowded streets.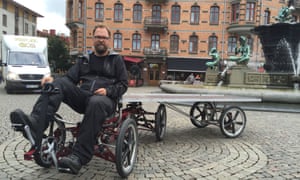 Read the full story here.